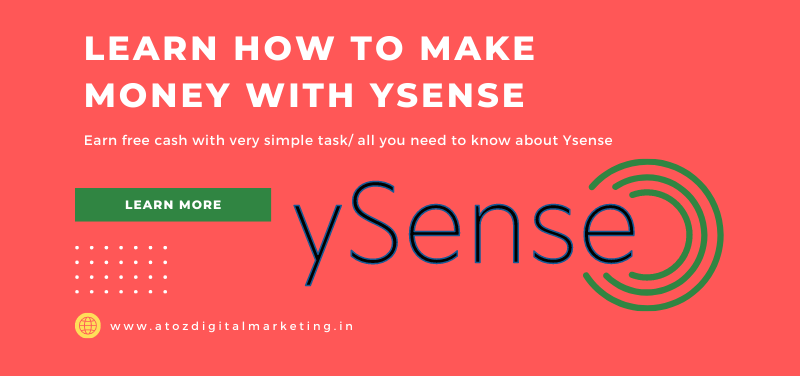 Earn money using Ysense! How?? Let's dive into the details!!
You too are looking for a source of side income and do not have money to start something on your own? What if I tell you that there is a platform that will help you earn a good amount of money with zero investment? Just finish the given task and earn money whether you are a student, a housewife, an employee of another company, or running your own business. Ysense welcomes you all for free to the platform and gives you a chance to make a solid source of extra free cash income. And yes, it is a 100% legit platform that pays on each completed task.
Check here to know how to start of with Ysense
How to Earn Money Using Ysense?
Here are all the ways that can make you money on ySense,
Daily Poll
Paid Surveys
Offer complition
Affiliate/Referral Program
Checklist Bonus
Let us understand them all one by one,
Daily poll :
Daily poll is a new feature of ySense where you will be given a very simple one minute task with only one general qustion about your preferences on different things. This one poll question will help you earn $0.01. By simply answering one poll question you can get the amount. Basically it is also one type of survey.
You can find the Daily polls below all your surveys or under the tab of surveys in Menubar below history.
Paid Surveys to earn money using ySense:
Most of the people are interested in filling up the simple surveys and earn money with ySense. The surveys are easy to answer and fun to fill up. For each completed survey, user will be rewarded with certain amount of money. ySense usually pays from $0.10- $3/4 depending on the amount of time you will need to complete that task. Under Survey panel you have 3 options: Surveys, History of surveys you have attempted and daily poll. User should check all three of them daily to unlock the all available task options of earning money with ySense.
Annoying thing about ysense is that you cannot be qualified for most of the surveys. So manytimes in the middle of the survey, you will be redirected by saying that "  Not every survey can be a winner, but keep trying!" This means you are not qualified for that task. But when you successfully compete a task it will pop with saying, "Survey completed", "Thank you" something like this. It will bring you back to the survey dashboard with green notification saying that you have been able to complete the given task. You will be rewarded soon after finishing the work.
You can go to the history to check the complete task and the amonut paid. If you do not get paid even after completing the task, you can always contact customer care of ySense to follow up. They will create a suport ticket soon and relove the matter. But make sure you take a screen shot of the one you completed and not funded to attach while asking for support. Then only you will get response on the exact query.
Offer Complition :
ySense offers different cash offers of its own plus some third party offers as well. Here is the list of third party offers,
Wannads
RevU
MyChips
OfferToro
ayeT Studios
AdGate
Adscend
Hang My Ads
Lootably
Offers interface of ySense may look like this,
Once you click on any of the offers it leads to some of the istruction that are terms and conditions to avail the offers. Take a look at below interface image to understand it better,
Most of the offers involves some kind of terms to avail the offer,
As you can see above,
It requires a purchase
Award will pend for 90 days (it can be 30 days or 60 days or 90 days)
New customers must purchase a package to earn rewards
ABove are the offers from ySense, But different thrid party has their own offers that include sign ups, watching videos, scrolling some app, downloading apps, playing games for certain period of time and much more. If you are someone who loves to play games, then this platform can enatertain you with games with side earning. Play to earn! Check one more example below!
This offer is from Third party Hang My Ads. This requires to complete first order using a smart phone aor a tablet, This will ask for your email address to receive the offer the link and will give you 224 Cents on your first purchase.
Some of them has the option of Installing and playing games until you reach a certain level or complete particular level.
Check all the instructions before choosing any offer and also make sure how much you are earning using the offer. Some offers are just $1/hour whereas some offers can pay up to $300 as well on complition.
Depending on the task it may take time. Some may finish in a few minutes while others may take few days as well. Check the deatils carefully.
Note :
Make sure you follow all the istructions accurately otherwise your payments may get affected
If you are not a new user. Offers are applicable to the new users only. If you have already downloaded an app you cannot avail that offer again.
If completed the task and not paid, there is always an option to contact ySense customer support team and get refunded.
Affiliate/ Referral by ySense to earn money from home :
ySense has two way referral programs for its users. Check below!
Sign Up Commissions :
Here is the thing, ySense has its unique way to pay for referrals. For signing up by each referral, it pays $0.10 to 0.30 depending on the country of the referral.
The countries that comes under top tier are : Australia, Austria, Belgium, Brazil, Canada, Chile, Denmark, Finland, France, Germany, Greece, Hong Kong, Ireland, Israel, Italy, Japan, Malaysia, Mexico, Netherlands, New Zealand, Norway, Poland, Portugal, Saudi Arabia, Singapore, South Africa, South Korea, Spain, Sweden, Switzerland, Thailand, United Arab Emirates, United Kingdom, United States.
Source : ySense
To make motivate its users ySense pays extra $2 bonus on earning of first $5 from referrals.(this does not includes bonuses and commissions)
Apart from this, for reieving sign up commision on your referrals, your refrral must have completed 3 tasks in the form of surveys or offers.
Activity Commissions
On each completed survey by your referral, you receive 20% commission of the total amount earned by your referral.
You can increase this percentage up to 30% by meeting the threshold. If you have 100 referrals that has completed at least one transaction in past 30 days, woohooo, you will get additional 5% commission making it 25% on your referral's income. If you have 200 referrals with one finished transactions, you can make it to 30% commission.
Take a look at this example image to understand it better,
If you have a good marketing network where you can promote ySense as affiliate program, you can earn money by just sitting at the comfort of your home without doing anything.
Follow the link to start your online earning journey from the comfort of your home!