What is the Difference between SEO & SEM?
1. Time Ratio For SEO & SEM
SEM is called Search Engine Marketing. It functions as an advertisement for your product. When we are starting our business or website we always want that it ranks as soon as possible, but applying only SEO takes time to rank.
As Google says that if you want to rank your web page on top, you need to apply all the SEO factors properly. After applying On-Page SEO, Off-Page SEO, and Technical SEO factors, it will take few months to rank your site.
In this case, the person who thinks that he/she should utilize this time rather than waiting for months to rank their page can simply apply SEM on their website.
2. Type of Niche
Time usually depends on your niche. If your niche is competitive and more people are trying to rank on the first page in SERPs, it will take time to get higher rankings.
Vise versa, if your niche is vulnerable and there is less competition, there are fair chances that your site might rank earlier than other sites.
Hence, for the people who want their website to rank as soon as possible, it is important for them to use SEM.
3. Instant Result In SEO & SEM
SEM gives you instant results to bring traffic to your page. In the case of SEO, it is a little time-consuming (3-6 months, depending upon the niche). Moreover, it also depends on the Google algorithm. Little changes in things can replace your page ranking with others. It is visible to have fluctuations in SEO.
4. Target Audience
In both cases, it is possible to target an audience, but in SEM you can run the campaign according to your convenience.
For example, If a person just wants to run his ads through paid promotion for a specific time only, he can pause the campaign when not necessary. It is not at all mandatory that you have to pay for 24*7 when not needed.
But in the case of SEO, continuous efforts are needed. It is a never-ending process if you wish to rank your page on the first page all the time.
What is SEM?
Search Engine Marketing is generally a paid promotion of your website or product.
For example, when you enter any keyword in Google, you may see the ads before websites. For example,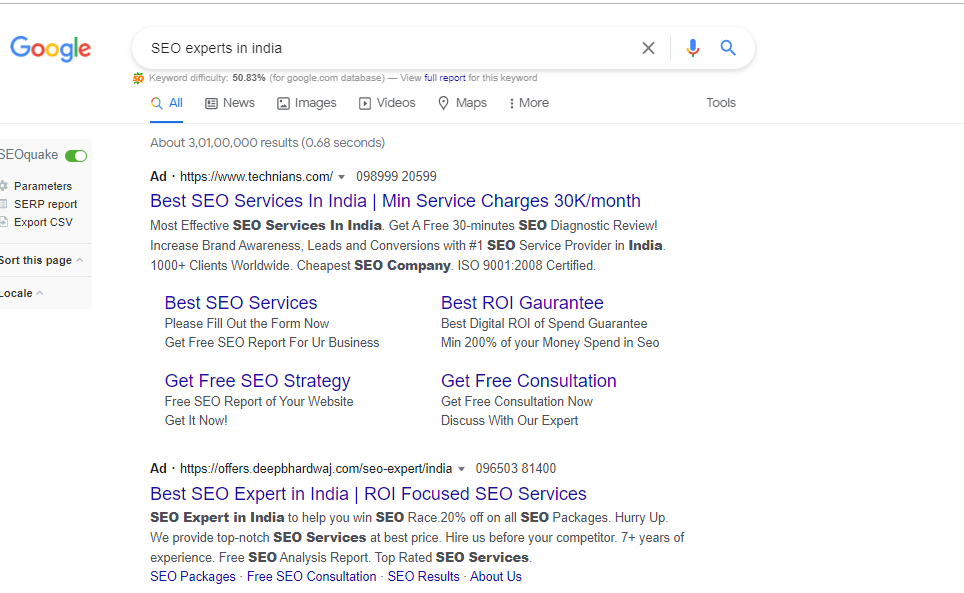 As you can see above, when you search for something, you can see ads like this. These ads are paid ads.
These Ads includes,
Facebook Ads
Instagram Ads
Linked in Ads
Twitter
pintrest
Snap Chat
You tube Ads
These online platforms continue the source of the traffic to your website.
By running a specific ad campaign, you can ensure that your page is ranking on the first page.
Definitely, this requires certain skills so that you can beat your competitor and rank on the top.
But as you can see on the above image that it is showing two ads for the same search query.
For instance, If you are paying money for the ads as well as your competitor is also paying the money, then whose ads will be displayed first on the page?
Google AD Rank & CPC
Before understanding how Google gives ranking to ads, let understand the term CPC.
CPC means Cost Per Click. When you want to run your ads campaign, you have to decide how much money you want to use for one-click by the user. If you fix 10 rupees per click it means when any potential customer will click on your ad by reading it, you will have to pay rupees 10. You will also get an option of the maximum bid. Means your CPC cannot go above your Maximum Bid.
You must be wondering, how are the rankings of these ads are decided? It has a different algorithm. Google has certain criteria to decide the rankings of the ads. Have a look at the below image to understand it better.
Here you can see there are four advertisers. each of them has different bid prices per click. The first advertiser pays a maximum of $2, the second pays $4, the third pays $6 and the last one pays $8. At the same time, all of their websites have different quality scores such as 10, 4, 2, and 1 respectively. And the ad ranks are 20, 16, 18, and 8.
Use the formula to calculate CPC(Cost Per Click),
Your Price=
The AD rank of the person below you/ your quality score + 0.01
For Advertiser 1= 16/20+0.01= $1.61 Actual CPC
That means advertiser 1 will pay the least for advertising per bid.
Google follows these steps to give ranking to ads.
AD Rank= Max CPC * Quality Score
For the Advertiser 1
AD Rank= Max CPC * Quality Score
= $2 * 10
= 20